Mumbles Green Heroes!
Mumbles Green Heroes Event!
Join us at the Mumbles Green Heroes event on 24th November.
This month we will be discussing the fascinating world beneath our seas, with a talk from local marine biologist and Seasearch co-ordinator Matt Green. He will be providing us with a presentation about our local marine biology, including some of his amazing finds off our Swansea coast.
When and where is it?
The event will be held on Friday 24th November from 5:30pm until 7:30pm.
We will be meeting at Underhill Hub, Underhill park, Newton Road, Langland, Newton, Mumbles, SA3 4SL
Refreshments including tea, coffee and cake will be available to buy from the caffe, but the event is free to all.
Registration through the Eventbrite link is essential!
Mumbles Green Heroes Tickets, Fri 24 Nov 2023 at 17:30 | Eventbrite
-
Digwyddiad Pencampwyr Gwyrdd y Mwmbwls!
Ymunwch â ni yn nigwyddiad Pencampwyr Gwyrdd y Mwmbwls ar 24 Tachwedd.
Y mis hwn byddwn yn trafod y byd cyfareddol o dan ein moroedd, gyda sgwrs gan y biolegydd môr lleol a chydlynydd Seasearch, Matt Green. Bydd yn rhoi cyflwyniad i ni am ein bioleg môr leol, gan gynnwys rhai o'i ddarganfyddiadau anhygoel ger arfordir Abertawe.
Pryd a ble mae e?
Bydd y digwyddiad yn cael ei gynnal ddydd Gwener 24, Tachwedd o 5.30pm tan 7.30pm.
Byddwn yn cyfarfod yn Hyb Underhill, Parc Underhill, Heol Newton, Langland, Newton, Y Mwmbwls, SA3 4SL
Bydd lluniaeth, gan gynnwys te, coffi a chacennau ar gael i'w prynu o'r caffi, ond mae'r digwyddiad yn rhad ac am ddim i bawb.
Mae cofrestru drwy'r ddolen Eventbrite yn hanfodol!
Mumbles Green Heroes Tickets, Fri 24 Nov 2023 at 17:30 | Eventbrite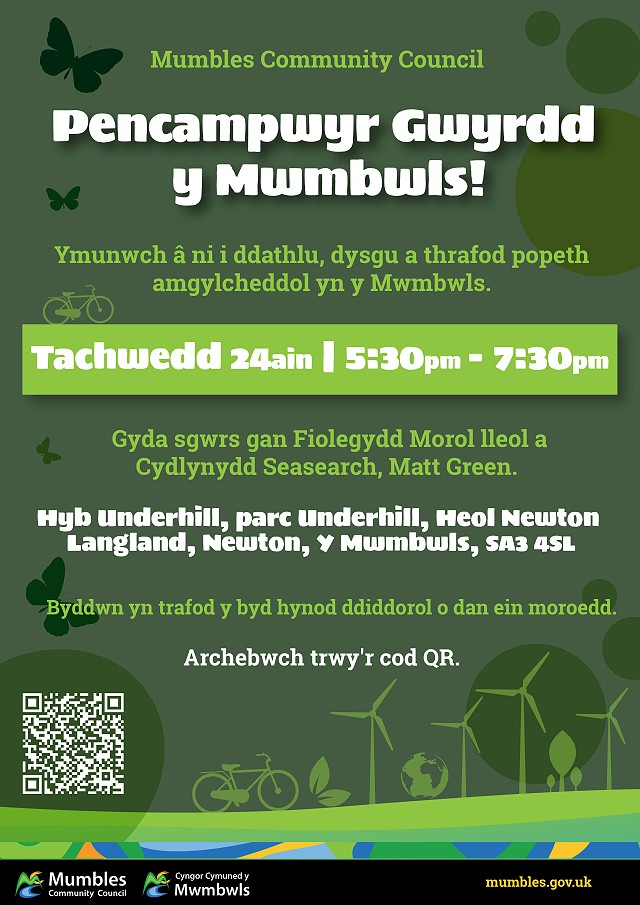 Date
Friday 24th November 2023